St Patrick's Day Pick Up Lines (New)
Happy St. Patrick's Day, everyone! In honor of the holiday, we've put together a list of some of the best St Patrick's day pick up lines.
So whether you're looking to impress that special someone or want to have a little fun, these pick up lines are sure to do the trick.
It's finally March, and that means one thing: St. Patrick's Day is just around the corner, so let's get into the holiday spirit with these flirty and clever pick up lines inspired by the Irish to make you stand out from the rest.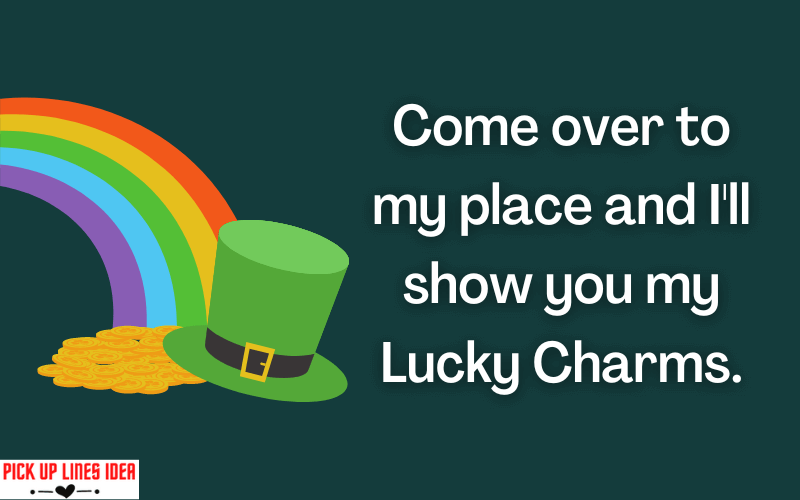 St Patrick's Day Pick Up Lines
Come on! Let's drink green beer. Let's do green jello shots. Where is your St. Patrick's Day spirits?
Are you from Ireland? 'Cause my dick's-a-Dublin!
Come over to my place and I'll show you my Lucky Charms.
Did my eyes just turn green? Because when I see you, I feel like I'm getting lucky.
Did you know what a real Irishman wears under his kilt? Nothing … Irishmen don't wear kilts.
Everyone keeps talking about this Kelly Green lady. Are you her? No? Then what is your name?
Is that a snake in your pants or are you just happy to see me?
Let's go out again so we can share a pot of gold. Tequila gold, that is.
Don't tell anybody, but I have a fridge full of Shamrock shakes back in my apartment, I'm taking one person at a time.
St. Patrick blessed me with luck today because I stumbled upon someone as hot as you.
I don't have four leaves, but if you pluck me, I'll give you luck!
My lips are like the Blarney Stone. Kiss them for good luck and the gift of the gab.
I'd be delighted if you shared this magical pot of gold with me.
Lassie, it's your ancestral duty to drive the snake out of my pants!
St. Patrick blessed me with luck today because I stumbled upon someone as hot as you.
Top of the morning to you. Beg your pardon, I'd like to be on top of you in the morning.
Forget the wearing of the green and let's get right to the wearing of your ass like a hat!
How'd you like to help put the Irish Spring back into me shillelagh?
I understand you're catholic, so pull down my zipper and I'll introduce you to my holy trinity.
I gave up beer and beautiful strangers for Lent. Glad I'm not Catholic.
I'm Irish, wanna taste my lucky charms?
I thought your smile was the shimmer from a pot of gold so I followed it and found something as bright and beautiful as a rainbow at the end: YOU.
If you don't go on a date with me, the leprechauns have already won!
You may also like hug pick up lines
About St Patricks Day
If you're sharing the St Patricks day related pick up lines, you should also share some interesting facts about the holiday to go along with it. It's important to know something that everyone else doesn't to make you seem more attractive and keep the conversation going.
So here are some fun facts about St. Patrick's day that you can share:
St. Patrick's day is a cultural and religious holiday celebrated on the 17th of March. It is named after Saint Patrick, the most commonly recognized of Ireland's patron saints.
The holiday originally began as a feast day to honor Saint Patrick and has since evolved into a celebration of Irish culture.
St. Patrick's day is celebrated in many countries around the world, but it is particularly popular in Ireland, the United States, and Canada.
It is estimated that over 100 million people worldwide celebrate St. Patrick's day each year.
Here are unknown fun facts about St Patrick's day:
The color green is associated with St. Patrick's day because it is the color of the shamrock, a symbol of Ireland.
The first St. Patrick's day parade was held in New York City in 1762.
Ireland is home to over 4,000 castles, more than any other country in the world.
The Irish Wolfhound is the tallest dog breed in the world.
The Irish flag is not actually green, it is blue with a triangle of orange in the middle.
St. Patrick's day is the national holiday of Ireland. This is because saint Patrick is the patron saint of Ireland.
The oldest St. Patrick's day parade in America is held in Boston, Massachusetts.
So there you have some fun facts about St. Patrick's day to help you break the ice and start the party. We hope you have a great time celebrating and wish you all the luck of the Irish.
Also, if you want to go the extra mile, learn how to say "Happy St. Patrick's Day" in Irish! It's sure to impress anyone you share it with.
When And How To Use These Lines
The best time to use these pick up lines is on or around St. Patrick's day when people are in the holiday spirit and more open to having fun.
If you use this holiday as an opportunity to stand out and make a good impression, you're sure to get lucky. And who knows, maybe you'll even find your pot of gold at the end of the rainbow.
You can also use these lines on social media as a caption. You can take a selfie of your friend or loved one and post it with one of these lines.
Otherwise, if you dare to share it in person, you can use it when you are flirting with someone or starting a conversation with new friends at the party.
Just be sure to have a little Irish charm and confidence when you use them, and you're sure to find your match made in heaven.
Conclusion
We hope you enjoyed our list of St Patrick's day pick up lines and that you have a great time celebrating the holiday. Remember to be confident and have fun with it; you're sure to find yourself a lucky leprechaun.
If you've ever tried any of these lines or have any of your own to share, let us know in the comments below. We'd love to hear from you.