Hot Dog Pick Up Lines: Hey there! Summer is in full swing, and that means one thing: barbecues, beaches, and of course, hot dogs. Hot dogs are a classic summertime food whether you love them plain or loaded with toppings.
And what goes better with hot dog pick up lines? If you're single and ready to mingle, why not try your luck with some of these cheesy yet clever pick up lines based on hot dog. Trust us, they're best for starting a conversation, getting a date, and, ofcourse, make everyone laugh.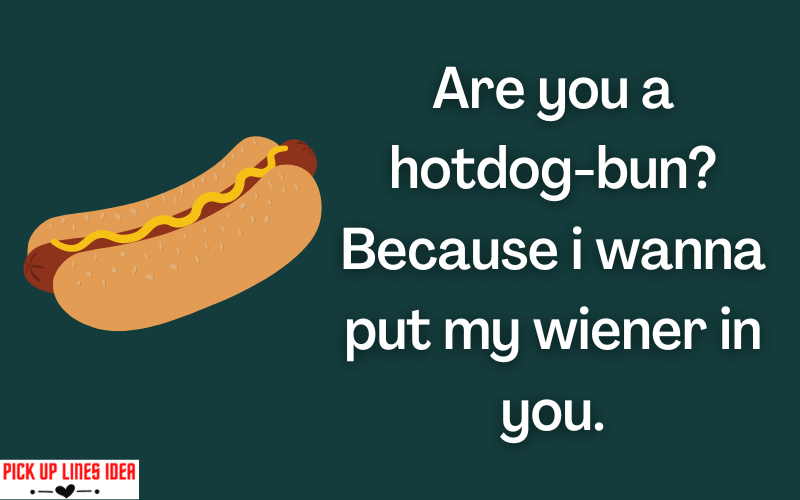 Hot Dog Pick Up Lines
Are you a hotdog-bun? Because I wanna put my wiener in you.
Are you happy to see me, or the hot dog just became hard?
Are you ketchup? Because I'm mustard, we should get together on a wiener.
Babe, I will treat you a seven-course meal tonight. A hot dog and my six pack.
Are you hot dog? Because you are hot!
Are you mustard? Because I want you on my hotdog.
Babe, I got the dog and I like your buns. Just a little work and we can add a little sauce & cream too.
Babe, I want you to open up your bun for my BBQ hot dog.
Roses Are Red, Grass is Greener. When I look at you, I want to feed you my wiener.
Girl, if you think this wiener is tasty, you should taste my wiener juice tonight.
Girl are you ketchup? Because I wanna dip my hotdog in you.
The hot dog's getting cold. Let's put in your oven to make it juicy again.
Girl, do you love hot dogs? Because you sure know how to handle a sausage.
Girl, do you win a lot? Because you are the queen of my wiener.
Have you ever had a hot dog competition, because my wiener takes the cake.
Hey girl, do you sell hotdogs? Because you know how to make my wiener stand.
We're having a wiener-measuring contest over there. Do you have a yardstick that we could borrow?
I am the real wiener for you.
If you're not a health inspector, I'd like to treat you with my street dog.
I'm a hot dog vendor by day, a love machine by night.
My meat wants to meet your buns.
Kiss me and I will offer you free sausage.
Also see fruit pick up lines
All About Hog Dog With Fun Facts
So far, you've gone through some of the best hot dogs pick up lines, but after sharing these lines with whoever you want, you need to keep the conversation continuing. Though to keep the conversation continue, first you have to talk about hot dogs only.
If you start a conversation using these lines but don't know anything about hog dog, then you might get into trouble. To save you from this problem, we've brought some facts about hog dogs you can use in your conversation to make it more interesting and long lasting.
A hot dog (also spelled hotdog) is a grilled or steamed sausage sandwich where the sausage is served in the slit of a special hot dog bun, a partially sliced Bun. It can also refer to just the sausage of its composition. Typical sausages include wiener (Vienna sausage), frankfurter (or frank), or knockwurst.
The term hot dog probably derived from earlier slang term "dog" meaning "low-quality meat", and the use of the word "dog" to refer to sausage.
The first ever usage of the word "hot dog" in reference to sausage on a bun is generally attributed to cartoonist Thomas Aloysius Dorgan. In 1901, Dorgan drew a cartoon about baseball fans eating hot dogs at the Polo Grounds and simply called them "hot dogs". It wasn't until 1904, however, that the term began appearing regularly in print.
Hot dogs are commonly served with one or more type of mustard, ketchup, mayonnaise, relish, cheese sauce, onions, chili, bacon bits, sauerkraut, coleslaw, or jalapeño peppers.
Hot dog varieties include Coney Island hot dog, Detroit Coney dog, New York System wiener, Boston hot dog, Chicago-style hot dog, Sonoran hot dog, and the Carinthian hot dog.
Hot dogs are often eaten as fast, or street food and are traditionally cooked outdoors on grills during the summertime.
Hot dogs are also cooked in various ways inside the home, including steaming, frying, microwaving, and boiling.
When And How To Use These Lines
Now you know everything about hog dogs, so it's time to use these lines. You can use these lines in any situation, whether at a barbecue party or public gathering.
But the best place to use these lines is undoubtedly when you or your friend is eating hog dogs. You can also use these lines when you're out for a jog and see someone attractive eating a hog dog.
If you see your crush eating or talking about hog dogs, don't hesitate to use one of these lines. Who knows, you might just get lucky. Because these lines are not just cheesy but also very clever, so your chances of impressing someone are quite high.
But make sure to avoid using these lines in a very serious or formal setting, as they might not be well received there.
Also, be sure the person you're using these lines on is actually eating or talking about hog dogs, otherwise, they might not relate to what you're saying and think you're just being weird.
Lastly, when using these lines, be confident and keep a smile on your face. After all, the whole point of these lines is to have fun and make everyone laugh.
Conclusion
We hope you enjoyed this list of hot dog pick up lines! If you have any other great ones, feel free to share them in the comments below. And if you end up using any of these lines, be sure to let us know how it went in the comments as well.