Best 10+ Movie Pick Up Lines (New)
Best 10+ Movie Pick Up Lines (New): We all know how hard it is to approach someone you're attracted to and strike up a conversation. It's even harder when you don't have anything clever to say. That's why we've compiled a list of the best movie pick up lines of all time.
These lines are sure to get a laugh and break the ice. So next time you're going to watch a movie or conversing with someone about movies, try one of these pick-up lines.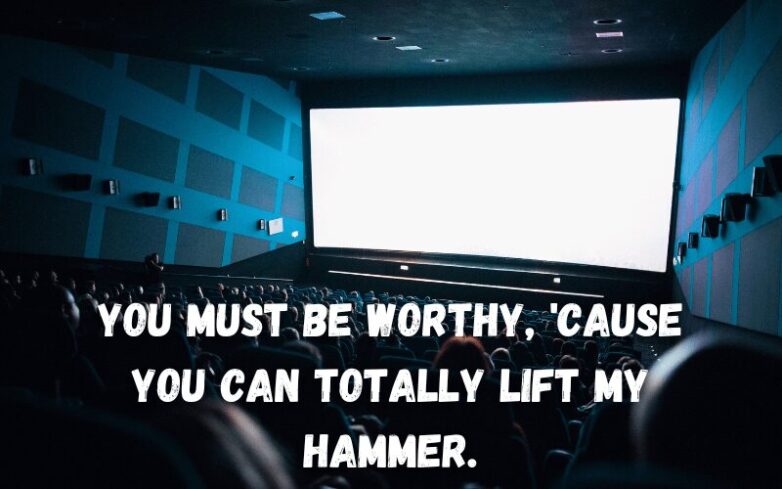 Best Movie Pick Up Lines
Clark Gable, Gone with the Wind
"You need kissing badly. That's what's wrong with you. You should be kissed often, and by someone who knows how."
Will Smith, Hitch
"Now on the one hand, it's very difficult for a man to even speak to someone who looks like you. But on the other hand, should that be your problem?"
George Clooney, Intolerable Cruelty
"Your husband had told me you were the most beautiful woman he'd ever met. I didn't expect the most beautiful woman I'd ever met."
John Cusack, The Sure Thing
"How would you like to have a sexual encounter so intense, it could conceivably change your political views?"
Ralph Fiennes, The English Patient
"Swoon — I'll catch you."
Owen Wilson, Wedding Crashers
"You know how they say we only use ten percent of our brains? I think we only use ten percent of our hearts."
Jimmy Stewart, You Can't Take It with You
"I hear voices, too. Voices that say, 'If you don't kiss her soon, you're a chump.'"
John Gilbert, Flesh and the Devil
"You know… when you blow out the match… that's an invitation to kiss you?"
Bradley Cooper, The Hangover
"Ma'am in the leopard dress… you have an amazing rack."
Ingrid Bergman, Casablanca
"Is that canon fire, or is it my heart pounding?"
Ryan Gosling, The Notebook
"I want you. I want all of you. Forever. You and me. Every day."
Steve Carell, Anchorman
"I would like to extend to you an invitation to the pants party."
Brad Pitt, Thelma and Louise
"I may be an outlaw, darling. But you're the one stealing my heart."
Mike Myers, Austin Powers: The Spy Who Shagged Me
"Let's hop on the good foot and do the bad thing."
Natalie Portman, No Strings Attached
"You give me premature ventricular contractions. You make my heart skip a beat."
Sean Connery, You Only Live Twice
"Now what's a nice girl like you doing in a place like this?"
Tom Cruise, Vanilla Sky
"See, I've got this little problem. I've got a stalker… I need a cover. I need for you to pretend we're having a scintillating conversation, and you are wildly entertained."
Sam Rockwell, The Hitchhiker's Guide to the Galaxy
"Wanna see my spaceship?"
Will Ferrell, Anchorman
"I don't know how to put this, but… I'm kind of a big deal."
Matthew Perry, Fools Rush In
"You are everything I never knew I always wanted."
Steve Martin, My Blue Heaven
"You know, it's dangerous for you to be here in the frozen foods section — because you could melt all this stuff."
Nicolas Cage, Leaving Las Vegas
"I really wish you'd come home with me. You're so cute, and I'm really good in bed, too, believe me."
Jack Nicholson, As Good As It Gets
"You make me want to be a better man."
Jack Lemmon, The Apartment
"I used to live like Robinson and Crusoe, shipwrecked among eight million people. But one day I saw a footprint in the sand and there you were."
Gerard Butler, PS I Love You
"I know what I want, because I have it in my hands right now. You."
Also See:
While sitting on a chair at the cinema you can also use wheelchair pick up lines with Pinata lines.
When To Use Movie Pick Up Lines
So far, you've seen some great movie pick up lines, but they won't be of any use if you don't know when or how to use them. Hence, here is a little guide on when and how to use these pick up lines.
If you're at the cinema, starting a conversation with someone you don't know would be great. You should make sure you use them in a funny but not creepy manner.
Sitting next to someone attractive, you can use these lines to start a conversation. But make sure to gauge the situation and the person's reaction before you go ahead with it.
In cinemas, when it's interval time, and you're buying some snacks, this would be a great opportunity to use one of these lines on the person in front or behind you in the queue.
Another great place to use movie lines is when you're talking to someone about movies. This could be at a party, garden, bar, school/college, or even online. Further, sharing lines related to a movie you both like will create a rapport and make the conversation more fun.
Identify the Type Of Movie The Person Likes
This is a key step before using any of the movies pickup lines. Identify the type of movies the person likes. Movies can be broadly classified into various genres like action, thriller, drama, romance, funny, horror, etc.
If you can identify the genre of movies the person likes you're attracted to, it'll be easier for you to choose a line that they can relate to. For example, if the person likes romantic movies, you can use a line from "The Notebook" or "Titanic". Whereas, if the person likes action movies, you can use a line from "Die Hard" or "The Matrix".
How To Deliver Movie Pick Up Lines
Once you've zeroed in on a movie pick up line, the next step is to deliver it in the best way possible. Your message isn't just about what you say, but also how you say it.
The timing is also important. Delivering the line at an inappropriate time might ruin the mood, and the person might not take you seriously.
Also, ensure you say the line with a straight face and in a confident tone. Laughing while saying it might make the other person think you're making fun of them.
Last but not least, don't use more than one movie pick up line in a conversation. If you do, the person might think you're not original and are just copying from movies.
Once you start the conversation using a movie pick up line, try to keep it going by asking questions about the person's favorite movie or what they thought of the last movie they watched. This will help you get to know them better and take the conversation forward.
The gym is also a good opportunity to meet new people and start conversations using gym pick up lines.
Conclusion
We hope you enjoyed our list of the best movie pick up lines. Now that you know when and how to use them go ahead and give them a try the next time you're at the cinema or talking to someone about movies. Who knows, you might just end up impressing the person you're attracted to.
Do you know any other great pick up lines related to movies? If yes, please share them with us in the comments section below.