65 Car Pick Up Lines (Truck, Driving, Mechanic, Taxi)
Car pick up lines: Are you looking to impress or want to start a conversation with a guy who loves cars, works in a car showroom, or is a mechanic, taxi driver, or anything related to automotive? You've landed at the right place.
Our massive collection of car pick up lines mainly for guys covers car mechanics, truck, driving, taxis, traffic, road, parking, and more, in a cheesy and funny way.
Car Pick Up Lines
Call me racer cause i can drive girls crazy
If I was a car, I'd need some coolant, because you've got my engine overheating.
If you were a car door, I would slam you all night!
Can i open your bonnet and check out your oil with my dipstick.
Can you help me with my GPS? I need directions to find my way into your heart.
Look surprised, then say, WOW, This is the first time I've ever seen a flower driving a car.
I'd like to put my piston in your cylinder.
Hello. I'm sorry but I'm lost. Can you show me the road to happiness?
Hey baby, if I was a car, I'd need some coolant, because you've got my engine overheating.
Who needs oil when you're naturally charged?
Hey baby! Ever heard of the dancing car? Get in and I will show you.
Will I get a chance to pop your clutch?
Is your battery dead? Cause I'd love to jump you.
Can you help me reconfigure my GPS system? I need directions to get into your pants.
If you were a car door, I'd slam you all night long.
Hey pull over, your car is on Fire!
I can feel my energy security rising when I am with you.
I need some coolant, because you've got my engine overheating.
Can I offer you a space to plug in and recharge?
Hey baby! If you were a car, I'd drive you all night long.
Hey baby! I got the biggest exhaust pipe you'll ever see!
Don't worry, my energy levels never get low.
Can I put my dipstick in your oil hole?
Hey Baby! May i check your fluids with my dipstick.
Hey Girl! You have a beautiful chassis, two lovely airbags, and a fantastic bumper.
I'd love to be your hydrogen fueling station.
This car is small, but we can make it work.
Hey baby, if you were a car, I'd definitely run up the mileage.
Want to charge up with me?
Since gas prices are so high, I think you should carpool with me to dinner tonight.
Do you like things battery operated?
Are you as efficient with your hands as you are with your energy?
Do you mind if I check out your exhaust pipe?
Hey baby, if you were a car, I'd be willing to pay for new headlights.
Do you believe in love at first sight, or I should drive around the block one more time?
If I put my key in your ignition will it turn you on?
At least I have a car.
Can I offer you a space to plugin and recharge?
Excuse me. Do you believe in love at first site? And if not, would you mind waiting here while I drive around the block?
I don't drive a car, but I'd love to walk you home!
Hey baby, if you were a car, I'd have to turn off your brights, because your headlights are blinding.
With all these high gas prices, we should park somewhere and talk.
Don't let the compact size fool you.
Can I park my car in your garage?
I'm lost, can you tell me which road leads to your heart?
Hi! I'm from out of town and lost…could you show me the way to your house?
Your car's power and movement turns my wheels.
Do you know what the difference is between you and my car? I'd love to wreck you.
I don't need to keep my engine running when I am with you.
Hey baby, if you were a car, all my friends would be asking to borrow you.
Just because I don't use crude oil doesn't mean I don't like things dirty.
Hey, do you like your car? I was thinking of getting one for my mom.
Hey baby, if you were a car, I'd totally wreck you.
Hey baby, if you were a car, I'd check your oil regularly.
You make me glow as bright as your dashboard.
Hold on, let me put on my back up sensor before you say another word.
If I were a hybrid car, I'd let you hand the control over to my electric engine.
What's your favorite cruising speed?
Let's make sure your gasoline engine doesn't engage.
Do you believe in love at first site or should I drive by again?
You're like your hybrid, so quiet but so powerful.
Hey Baby! I've changed the shocks of my car. Wanna try them?
Can i adjust your rear view mirrorS?
Hey Girl! Who needs a pick-up line when you've got a pickup truck.
You're the only thing about this traffic worth smiling about! Got a cell phone? I'd love to chat with you!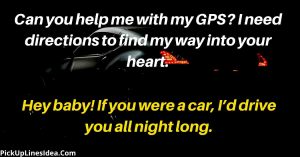 Cars became widely used worldwide during the 20th century. Further, it is one of the most common modes of transportation today. The automobile has become an essential part of our lives nowadays, allowing us to travel, but it also affects our climate by radiating pollution into the atmosphere. Hence, this article will provide all the information you need about cars.
Animal-drawn carriages and carts were used for transportation earlier, and when cars were invented, people didn't adopt them, so the US became the first country to replace carts with cars. Later on, cars started being accepted worldwide.
The engine, which is also considered the heart of a car, is one of the essential parts. You might have heard of several parts of an engine from mechanics, such as piston, camshaft, flywheel, and sump. Each car has a different power engine. You'll get a higher power engine with a more expensive car.
The speed of a car is a risk, though modern cars are equipped with hydraulic system brakes that operate on all four wheels. You can't ride a car if the brakes wear out, as they become out of balance. However, you should always check the brakes before riding any car.
You may also like bank pick up lines.
Look This Before Buying a Used Car
Many people on a tight budget prefer to buy a used car. The brand trust of the car allows you to avoid checking the car while buying a new car, but you cannot trust the seller when buying a second-hand car. There is a greater chance of faults in a used car, so checking everything thoroughly before making a final choice is essential. Listed below are some tips for buying a good used car.
1. The first thing you are supposed to do before purchasing a used vehicle is going for a test drive. When you already drive a car, it will be easy for you to determine if there is a problem. Another option is to bring a friend or car mechanic with you. The next thing you need to do is to ask the owner or car seller about the car after you've seen everything about it.
2. The first thing to find out about a car is its history, as its model and year. Additionally, inquire if the car has ever been misused before. In case you're satisfied with the car model, mileage, and maintenance cost, you can move forward.
3. Now, check the car condition once again, like the damage or painted parts on the car, the tire condition, and the interior, like the seat covers and all. Make sure the car's speedometer is working correctly. If you find a fault in the car, you can count it against the owner, which helps you determine its value.
At last, taking all this into account about the car's overall condition, you can decide the price and purchase it if the owner agrees.
Car Maintenance Tips
If you maintain your car correctly, it will last longer, and in the end, if you decide to sell it, you'll get a reasonable price due to its top condition. Here are a few car maintenance tips for you.
1. Regularly checking the tire pressure keeps the tires safe from wear and will provide good mileage. If your tire pressure is too low, it will wear down faster, and it is also risky to ride on those tires. Make sure you check tire pressure at least once a month and before every long ride.
2. Keep your engine running smoothly by regularly changing the oil. Additionally, the use of random cheap oil should be avoided. Make sure you use only the oil recommended by the manufacturer of your vehicle.
3. Keep your car clean by washing it daily if possible. As cars are used every day, they come in contact with dust, sunlight, rain, smog, tree sap, and other things, which slowly deteriorate the color of your car and make it appear old. To maintain your car and to keep it looking new, you should clean it regularly or have it serviced.
Aside from all this, if you feel any problem with your car, visit the service center immediately and identify the problem.
Benefits Of Car
A car offers a number of benefits. Listed below are a few of them.
1. The most common reason why we purchase a vehicle is to make transportation easier and time-saving. If you travel by public transportation, it will take more time and will make you tired.
2. In case of an emergency at night, having a private car would make it easier for you to get to the hospital or wherever you want to go, otherwise getting a taxi or using someone else's vehicle at night is problematic.
3. If your job entails the transportation of money or expensive goods, public transport can be risky. Consequently, a private car has privacy and safety benefits for you.
Facts About Car
As we have already discussed car pick up lines and information about cars, now let's move on to a few unknown facts about cars.
1. At present, almost 1.4 billion cars are on the road globally, and the number is rising along with the growing population. It means every fifth person in the world has a car.
2. Approximately 165,000 cars are made each day to meet the needs of our rapidly expanding population. Despite this, they can provide a unique car with every update.
3. If the car has the ability to travel to the moon and you operate it at 60mph, then you can reach the moon within six months.
4. Although we hear frequent news about car accidents nowadays. A surprising fact is that the first car accident occurred in 1891 in Ohio.
5. You will be shocked to learn that Los Angeles has more cars than people. It may seem crazy, but it's true.
You may also like these related lines on pilot pick up lines and Business pick up lines
Conclusion
We hope you enjoyed the car pick up lines and the other information about cars. Once you start a conversation using car chat up lines, you can also share the facts shared in this article to grab their attention.
Best wishes to you.