80 Business Pick Up Lines (Entrepreneur, MBA, Customers, Sales)
Looking for cheesy, funny, or dirty business pick up lines? The article includes entrepreneurs, MBA, customers, sales, corporate, marketing, office, and business related pick up lines.
Have you ever found that your business card just isn't enough to leave an impression? I guess we can finally say goodbye to awkward silence and stuttering introductions. Below are some effective pickup lines you can use at a business networking event or in conversation with your crush in a business context.
To grow your business or make a good bonding with your employees, customers, or boss, your seek skills matter a lot. They indicate how confident you are. Therefore, pick up lines are the most effective way to make a good impression.
Business Pick Up Lines
I would like to put your consulting expertise to good use.
Are you interested in managing my account?
You know the business, and I know the chemistry. Let's partner up.
Hey Baby, do you have enough capital? Cause I wanna start a partnership with you.
Are you busy today? Coz I want you to add me to your to-do list.
Your customer interface is impressive.
You know the business, and I know the chemistry. Let's partner up.
Baby, you can give me a call-to-action anytime.
If we went on a date, what do you think our profit and loss would be?
Excuse me girl, are you in Business class? Because you fly.
All this problem solving has me wanting to create problems.
Hey babe, are you a software update? Because I'm busy right now, but let's do it tonight.
I'm the CEO of love… My bedroom is never a bored room.
Girl, why don't you come over to my place… of business that is, because women belong in the workplace.
I'd like to make you my feature PowerPoint presentation.
What do you say we bounce like a bad email?
Realizing we're working on a timeline, how much time do we have to get to know each other?
Let's skip the foreshadowing and get down to business.
Come here often? Every day? From 9 to 5? Yeah, I guess that is often.
After reviewing your resume I have decided to invite you on a date with me.
I'm not into cold-call sales, but I'd love to have your number.
Should we debrief?
Hey girl, if you're so busy Then why don't you put me on your "to do" list?
You look like a woman in business. (Why?) Because you really know how to position yourself for me.
Do you have a privacy policy? Cause I'd love to see your fine print.
Any chance you'd be interested in drilling down with me?
I'm working on a fun project and I was hoping I could rope you in.
Boy are you the corporate ladder? Because I'm climbing on top of you in my dreams.
Are you busy tonight at 4 AM?
Are you from accounting? Because I was ac-counting on seeing you later.
I would be happy to be your human resource.
Me without you is like a marketer without analytics. Lost, visionless, and confused.
I can tell you're a team player.
Girl are you a new business cuz im definitely gonna penetrate you.
I'm lower brass, and as you know, we get down like nobody's business.
I'm only one bad business deal away from being Charlie Sheen.
Just like your paid search campaign, you've made quite the impression on me.
I can tap your wires like nobody's business.
Sometimes you just have to ask yourself, "Am I a profit or a loss?" Now which one are you?
Girl your so sweet you put Hershey's out of business.
Are you good with Excel? Then you must be good at spreadsheets.
You must be an inbound marketer … cause you sure attracted me!
I haven't been able to fall asleep lately I have been too busy falling for you.
I don't believe in automation, I am all hands on.
I want to spend this one life investing all of my interest in you.
If you were Microsoft Office, I would totally Access you.
All this corporate giving is getting me hot under the collar-you?
I was thinking about you during that entire conference call.
Can I see the inside of your cubicle?
I want you to be my partnership during ups and downs.
Can you file a workplace safety incident report? I just fell for you.
The first time I saw you, there was only word that came to mind-benchmark.
Do you have a privacy policy? Because I'd love to see your fine print.
I know that you are busy But you can add me to your do list
Can I expense you a drink?
How about we slip out of these suits and into something a little more casual Friday?
I love you like a marketer loves reporting.
Hi, this is my briefcase. Would you like to peruse it's contents?
Can you assist me with this insertion order?
My account is totally receivable.
Do you have the Wi-Fi password — because I'm feeling this connection.
Can you help me figure out my operating system?
Is that low-hanging fruit or are you just happy to see me?
You say accelerated growth, I just say hot.
Where else can you employ that analytical ability?
Forecasting is for people who can't live in the moment.
Now, when you say "team building retreats," what does that mean to you?
I don't think you and I will need any troubleshooting.
You say there is little margin for errors but I disagree.
I bet it was your hotness that caused today's mandatory fire drill.
I don't need to look at more data. What I'm feeling with you is already statistically significant.
If men were landing pages, I'd only want to convert on you.
You don't need a high level of core competency to know that you're a catch.
Instead of all these policies and procedures, let's visit the idea of free will.
The best part of this acquisition is you.
Who needs a financial analysis when I know exactly where to put my money.
You won't be needing an expense report tonight.
Risk management just sounds like something so clandestine!
Don't feel like you have to go this alone, we can tag team.
What do you say we bounce to my place like a bad email?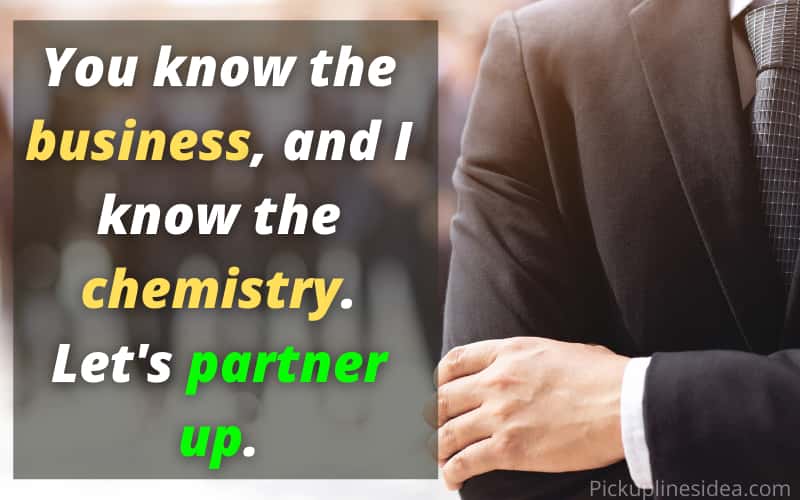 See Also Other Business related pick up lines:
About Business
Business is one of the most popular professions in the world, especially in the United States. It is also the most challenging job. If you want to start your first business, you have two options: you can either take out a loan or work for someone else while getting some money to set it up. Most people are passionate about business, but they prefer to work as employees for other companies due to the risks.
You can run a business on a large or small scale, depending on your abilities and your niche. Small businesses are like private gyms, restaurants, and mobile stores. However, large scale businesses can be conducted on both a national and international level, for example, in the transportation industry and selling own brand items.
There is no such thing as copying someone else and growing your business more than they do. To run a successful business, you need to research your market and create a new idea that no one is currently focusing on, so you can grow into a large and recognizable brand.
If you lack money but still have a good business idea, there's no need to worry. These days, many brands and banks are willing to invest in new and innovative business ideas.
Job Vs Business
There are many misconceptions about business and jobs, especially among students. Students should have a clear idea of what they want to do in life, but a lack of knowledge has caused them to take the wrong path. Let's see the difference between jobs and businesses and what's best for you with its pros and cons. 
If you want financial freedom, you can choose anything, either a job or a business; no fixed rule says you should do a job or a business only. There are advantages and disadvantages to both the job and business, so let's talk accordingly. 
Risk: As you may know, a successful businessman earns a lot more than someone who works a regular job. However, when it comes to mental stress and risk, the job usually wins. Your only risk in a job is being fired for doing unsatisfactory work. Government employees, however, have fewer chances of being fired. While in business, if anything happens, that makes your company in loss, as a boss, all the stress will be on you, as you have to pay salaries to your employees and cover the company's losses.
Growth: If your boss does not have a high vision, your chances of growth are also lower because if the company does not grow, your growth will also slow down. However, if you're with a good company with a long-term vision, you can have good chances of growth. When in business, you can grow your company according to your vision and goals, and if the company keeps growing, your growth will be unstoppable. Simply put, you will get the most out of your growth effort in business while in the job; it largely depends on your boss mindset and goals.
Income: A job provides you with a fixed income every month so that you can balance your expenses accordingly. When it comes to business, it depends. Sometimes you earn less than your average income, and sometimes you earn more. Additionally, if your business earns well and you have an excellent stable company, you can leave work with no worries. While working at a job, you have to work forever.
As a job holder, you are following someone else's dream, whereas a business owner can make their own dreams come true.
Facts About Business
Now that we've looked at some of the best business pick up lines with basic information let's look at some unknown facts.
1. These days, business is booming! More than 500,000 businesses were launched within 30 days. In the United States, more than 31.7 million small businesses are operating, and that number continues to rise every hour of every day as more startups are opened.
2. Only 50 percent of new businesses last more than five years. Additionally, 20% of small businesses fail in their first year. The number is certainly not impressive, but if you plan to start your own business, you should consider it.
3. As social media continues to grow and gain audiences, companies invest in social media to reach and engage with their customers. It was found that 61% of small businesses spend money on social media, but only 43% do it professionally.
If you're into economics you can also see economics pick up lines.
Conclusion
I hope you get the business pick up lines you need. Additionally, we did our best to provide you with all the related lines. I would also recommend sharing interesting facts about business to impress anyone.
If there are any other related pick up lines, you would like us to include, please let us know in the comments.