100+ Pirate pick up lines [Funny, Dirty, Cheesy]
Are you looking for some pirate pick up lines? If you have been, then you came to the right place. In this post, we'll be giving you some of the best pirate related pick up lines that can be used in many different situations.
So whether you're looking to impress your crush at a party or you want to add some fun to your next Tinder date, these pick up lines are sure to get the job done. The best use of these liens is when you are at Pirate Festivals, Halloween parties, or see someone dressed up as a pirate.
So what are you waiting for? Let's get started!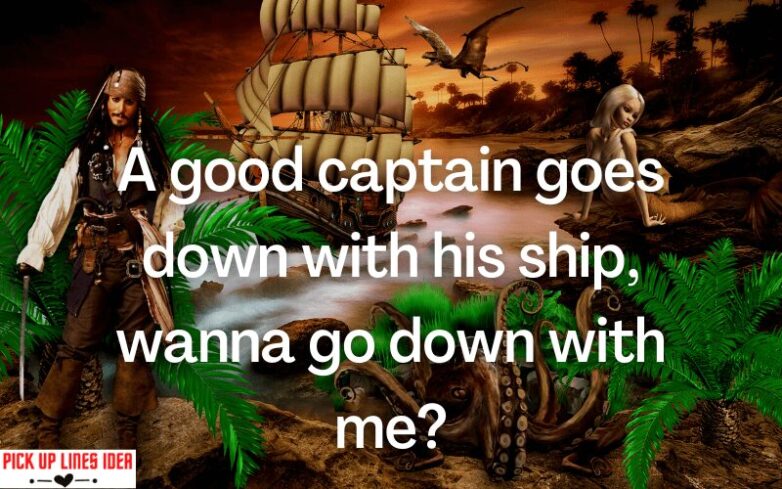 Pirate Pick Up Lines
A good captain goes down with his ship, wanna go down with me?
Arharrr, care to sink my battleship deary?
Arrrrrrrrrr you free this Saturday?
Avast, me pretty! Strike your panties and prepare to be boarded.
Baby, my ship was sunk till I saw you.
Avast, me proud beauty! Wanna know why my Roger is so Jolly?
Baby, you unfurl my sails.
Brwaack! Polly want a cracker? … Oh, wait. That's for Talk Like a PARROT Day.
C'mon, lad, shiver me timbers! (Female Pirate)
I'd love to drop anchor in your lagoon.
Come show me how ye bury yer treasure, lad! (Female Pirate)
Come dock in my port.
Come on up and see me urchins.
Do ya' mind if the parrot watches?
Do you have the latest copy of Windows XP with cracked product activation? (software pirates only)
Harrrrr! Let me create the 8th sea in yerr undies!
How'd you like to scrape the barnacles off of me rudder?
Hey, sexy — how about a Jolly Rogering?
I hope you like to matey, because I'm about to swab your deck.
I sure would like to pillage yer booty.
I'd love to drop anchor in your lagoon.
I'll beat your armada any day.
Pardon me, but would ya mind if I fired me cannon through your porthole?
I'll give you a British pound and two gold coins.
I'll pillage your ship!
Is that a belayin' pin in yer britches, or are ye… (Female Pirate)
Not only do I have a ship, but it's a long one.
It would make me Jolly if we could Roger.
Let me stick me cannon in your porthole.
See this hook? Variable speed with five alternate attachments, Baby.
Let's walk the plank to an out of this world experience.
Also see cuddle pick up lines if you want to high someone.
When To Use These Lines
As you have seen, the pick up lines above are not your typical cheesy or dirty pick-up lines. These are designed to be used in specific situations, as we mentioned before.
For example, if you're at college or a party, and you see someone that catches your eye and uses one of these lines, it won't work as effectively. The person you're trying to talk to will more likely think you're just trying to be funny or weird.
But if you use the same lines at a Halloween party or Pirate Festival, it will work better since it's in context.
So remember to use these lines in the right situations, and you'll be getting phone numbers and dates in no time.
However, considering this, also be sure that before delving into the line, the person and you have some eye contact so that it does not look too awkward. After that, when you feel the time is right, go ahead and give it a try.
Additionally, you can also use these pick up lines as conversation starters. So if you're feeling a little bit shy and don't know how to start a conversation with someone, these pick up lines can help you out.
Just walk up to the person and say one of the lines above, and it should help break the ice and get the conversation going. Again make sure you use the lines in the right situations so you don't come across as weird or creepy.
If you've fear of approaching people and starting a conversation, you can also share with your crush on social media platforms like Tinder. Just slide into their DMs and start the conversation with one of these pick up lines.
You can start with a simple "Hey, I like your profile" and see how they respond. If they respond positively, then you can continue the conversation and take things from there.
But if they don't respond or give you a negative response, you can just move on and find someone else. There are plenty of other people on Tinder, so don't worry about it too much.
If you're not able to Dm your crush on social media, no worries; here are some tips for building confidence and starting a conversation in person.
When you see your crush, before approaching them, make sure you have a smile on your face, this will show that you're friendly and approachable.
Additionally, make sure you keep your body language in check. Stand up straight, and don't cross your arms, as it will make you look closed off.
And finally, when you start talking to your crush, make sure you keep the conversation light and casual. Don't talk about anything too heavy or personal, as it will make things awkward.
Just stick to small talks like the weather, work, Pirate Festivals, movies, or TV shows. And if the conversation is going well, then you can use one of the pick up lines from above to ask for their number or see if they want to go on a date.
And that's it! Follow these tips, and you'll be sure to succeed in your dating life by taking advantage of pirates.
Conclusion
So there you have it, some great Pirate pick up lines that you can use at pirate festivals or Halloween parties. Just remember to use them in the right situations, and you'll be sure to impress your crush.