100+ Golf pick up lines [Cute, Dirty, Cheesy, And Funny]
The right golf pick up lines can change your life by expressing your feelings to your crush if they enjoy the sport. Aside from that, this golf chat up line will be an excellent way to break the ice with any golf lover.
If you can play 18 holes of golf without being a member, you're doing well in life. But, if you want to be sure the girl or guy at the clubhouse likes your game, then use these golf pickup lines. Do not start with an awkward line, or you'll lose them before they see how good you are. In order to make the lines effective, we've included golf terms and famous golf players in a cute, cheesy, dirty, non dirty, funny, and flirting way.
Golf Pick Up Lines
Want to play a game together?
Can I be your caddy? I want to give your shaft a good polish before we play tonight. (Best golf pick up lines)
Are you a Nike One Platinum ball because I'd like to see you on a T?
Are you a water hazard? Because you got me soaking wet.
I am always in to get a new major so let us get on into it right this moment, darling.
After 18 Holes, I can barely walk.
What do you say you let me pull it for you? (Top Golf pick up line)
Are you into kinky stuff? How would you like to do something I won't do for anyone on the PGA tour? I'll let you beat me.
You have a wicked slice. Can I call you Mister Right?
Do you slap the dimpled balls?
Are you sure you aren't all four majors because you would be a grand slam?
You are a Nike ball to me and I would definitely like to see you on my hole tonight.
I'm really good at mini golf. I've actually been practicing my putt. I'm getting better and better at long strokes.
Are you a birdie because I want you!
Bring some friends, and we can play a foursome.
You have a good body, I bet you can use that club really good, show me. (Dirty golf pick up lines)
Damn, girl. You've got the nicest boobs I've seen outside a PGA Tour locker room.
You can be my caddy, I have been looking a place to store this shaft I have.
Do you want me to pull it?
The moment I laid my eyes on you, I had a vertical angle on this shaft of mine, real hard.
Does a bear crap in the woods? No, but I'm willing to screw in them.
We should be more than friends, I'll teach you how to play, you teach me to be a woman.
How are you with putts? I prefer gentle strokes if you know what I mean.
Excuse me, Miss, are you looking for the fairway? Because you coming back to my hotel is the only fair way for this evening to go.
You should put golf as you top priority after all, I am a master at it, wanna try me?
From the moment I saw you, I've had a vertical shaft angle.
Hello, more than friends. (Clean golf pick up lines)
You seem to have thick and bulky bushes, I hope you cut them before I make my next move.
Hey baby…can you suck a golf ball through 50 feet of garden hose?
After every use, I will wash your balls and clean that shaft so let me use them every time.
Hey would you like what you're hiding in your tight jeans to be the 34th ranked golfer in the world because I can make that V-jay sing?
Are you staring at my putt again?
I am going to condition your shaft and your balls before the season for golfing comes, babe. (Golf pick up lines for her)
Hey, were you just promoted from Army captain because I'm always up for getting another major?
I am pretty much tired about everything else so can we just take a moment to play backside?
How about grabbing two of your friends so we can play a foursome?
How about you be my caddy and wash my balls tonight?
I am better than all those museums about golfing you have been in, let me show it to you.
If you can actually bring some of your friends, we can all with each other better.
The best way you can go before playing is to come to my room, I'll teach you to swing good.
How many strokes do you want?
I hope you like it rough because I don't replace my divots.
Go call your golf friends and maybe we can have some threesome or even a group one.
I'm a bit tired, so can we just play your backside tonight?
I just finished a round of golf, wanna be my 19th hole today?
My golf number may not be that good but my phone number sure is!
Oh man, my legs hurt so much. It's tough walking straight after 18 holes.
I only play in the short grass
I promise to lick your balls clean and polish your shaft before and after each use during the upcoming golf season.
I'm no good at golf, but I can sure wedge my balls into your sand trap.
Wanna go golfing baby? I'll let you put your balls in my hole.
I want to plug my balls in your bunker.
I finished my game today, but I'm still up for playing at the nineteenth hole.
I wanna take out your golf clubs and score a HOLE in 1.
Need a lesson? I can help you get it in the hole.
Let's play a game of golf at my place. How many strokes should we call it?
I'm a bit tired so how about we just play your backside tonight?
Want to try my extra-stiff shaft?
Can I be your caddy tonight? I'm really good at washing balls.
I'm gonna pound you like I do these range balls.
I'm known on the tour for having a lengthy club.
I like my driver how I like my men. Long and stiff.
Damn girl, you sure know how to give a bloke a vertical shaft angle.
I'm like a US Open hard and long!
I'm still working on my approach, but I think I have a pretty good swing.
I should report you to security. You're a water hazard for all the ladies on the course!
Hey, that's a nice swing you've got there.
I've been playing golf all day and would love to make you my 19th hoe.
I've got some good news. I like to go low.
You're such a dime I could just use you as a ball marker.
Are you a round of golf? Because I'd do you for four hours.
Is that my golf bag in your pants because I just finished a long drive and I'd like to put my wood in it?
From the minute I saw you, I've had a vertical shaft angle.
Unlike my drives, I have something that's long and straight all the time.
Is your body a shot that comes up short on the 17th hole of the Old Course at St. Andrews because I can see it rolling around in the sand?
Tell me baby, how many strokes do you want? I won't rest till I shoot all.
Hey honey, does your hand hurt from writing all those autographs? Because you're truly a grand slam.
It takes balls to play golf.
Look how big his putter is…
Hey, that wood around the course looks really great. Want to go make out there?
Hey handsome, are you Tiger Woods, or are you just happy to see me? (Golf pick up lines for guys)
My caddy says I should use a hard 7. You okay with that?
My drives aren't always long and straight.. but I can show you what is!
9 holes and chill?
My shaft is too long.
Are you a mini golf course? Because baby, you can make my heart race.
Obviously I'm a man that loves Gatorade and I'd definitely like to raid your gato. That's mispronounced Spanish for cat which is another word for…you get the idea. I'm Tiger Woods.
I played golf today, should I use yours as my next hole for the day, baby?
Oh you only have a threesome, mind if I join?
You look like Carrie Underwood.
I've got some news. I like to go low always.
So what's it gonna be today, Stroke Play or Skins?
How about you and I exercise on our stroke play together?
My shaft is too hard it hurts when I play, is there a way you can soften it?
Spread your legs shoulder width, that's the first step to a successful golf swing.
Wanna be my caddy? You look like you'd be a great ball-washer.
You must be a Nike One Platinum Ball. Why, do you ask? Because you'd look amazing on a T.
So, what's your kink? What turns you on? You're so hot, I'm willing to do something I haven't done with anyone yet. I'll let you win!
Wanna see my cobra?
Wanna see my super stroke?
What do you say we get together, call a couple of people and play a foursome?
You must have been promoted from army captain. You look like a major bomb!
Would you like to see my Slazenger along with my freshly cleaned balls?
I don't believe in replacing divots. So yeah, I'm looking for someone who likes things rough.
You in the mood for some stroke play?
Whenever I see you, I think I'm turning into a US Open. That's right: I'm becoming long and hard.
You interested in trying some new balls?
You look like someone who likes to swing.
You have a pretty nice swing there!
What's your favorite part about golf? My favorite parts are playing on short-grass and going low.
You're like an ugly dog-leg, but I'd still like to tee off.
You're more beautiful than a hundred pink flamingos on a golf course.
Is that your golf shaft in your pants, or are you just happy to see me?
Your butt reminds me of St Andrews.. Hard and Firm
Your putt looks great in those pants
Want to come to my place for a game tonight? I'm thinking we should go for a hard 7. What do you think?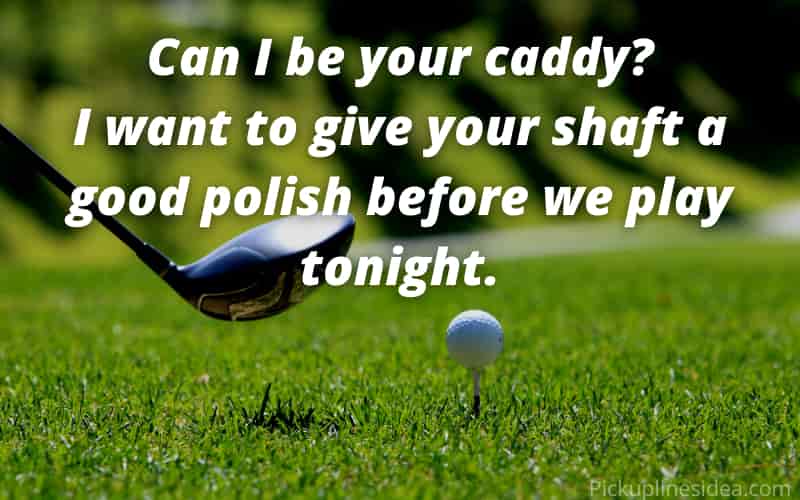 See Other Sports Also:
All About Golf
Golf is a game played on 18-hole courses with golf clubs and golf balls. Getting your small ball into the cup (or hole) is a challenge, so you hit it into elevated artificial turf, which has hazards between the holes. Once the player has made one shot, they return to the spot where the first tee shot landed and make it again until the 18 rounds get complete.
The game of 18 holes that we play today originated in Scotland, but there is no precise date to display because some say the 14th century and some say the 15th century. However, one thing is for sure; golf is among the oldest sports with consistently growing fandom worldwide.
There are 390 million golf fans all over the world, which describes how popular golf is. Based on the National Golf Foundation count of 2020, 24,8 million golfers were only located in the United States alone. The number keeps growing every year. A survey showed that in just one year, 2 million new beginners take up golf. Furthermore, women also are interested in the game, as there are 6 million female golfers among the 24.8 million US golfers.
Tips For Beginners
We've got some tips for you, whether you're a beginner or a regular player.
1. Honesty, golf is a challenging sport. Hence, to become an expert in the game, all you have to do is practice regularly.
2. Don't try to play from tees or expert courses when you're a beginner. If you want to learn golf, start with the basics and move toward the difficult level slowly.
3. You must enroll in golf school if you have a passion for the game and want to become a national or international player. The school teaches you a lot and saves your time by getting you on the right track.
4. Rather than just practicing every day, track your progress on a weekly or monthly basis as well. The progress you track will motivate you to practice harder and get better in a short time.
Benefits Of Golf
The golf game is a physical one, though it is evident that it has several benefits of playing it. Let's look at some of them to make you more enthusiastic about the game.
1. Golf is an excellent exercise for your feet as you stand a lot and walk around a lot while playing the game. The benefits of walking include improving blood circulation, losing weight, improving strength, improving joints, and living a long and healthy life. According to research, walking 2.5 hours a week can reduce the risk of heart attacks by 30 to 40%.
2. Going outside and playing in the fresh air between greenery can improve your sleep, lower your depression, decrease your anxiety, and enhance your mental creativity.
3. If you enjoy meeting new people, golf can provide you with the opportunity to do so. At golf school or the course, you'll meet lots of people with whom you can strike up a conversation using golf pickup lines and make friends. Making new friends is a great way to improve your conversation skills.
In addition to all the benefits, golf is also known as a sport with low risk.
Facts About Golf
1. Until now, the longest drive was 515 yards (471m) long. The game was held in 1974, and it was a U.S. National Seniors Tournament. This record was established by English-American pro golfer and kinesiology expert Mike Austin, who is 64 years old.
2. As you know, today, the golf ball is made out of rubber, but when golf was invented in the 14th century, up to the 17th century, the balls used to play were made out of wood.
3. It is interesting to learn that golf is the only sport played on the moon. Two golf balls were hit on the moon by Alan Shepard with a golf club.
4. If you choose to walk eighteen holes instead of riding in a golf cart, you will walk approximately four miles. Your body burns 2,000 calories when you walk 4 miles.
Conclusion
Try one of these golf pick up lines if you're looking for a creative way to break the ice with a golf lover. It's perfect for the course, the bar, the club, and everywhere else you might find yourself looking to meet someone new.